TOGETHER came out a month ago, and feedback has been overwhelming to say the least! Besides album reviews this newsletter includes a TOGETHER merch re-print pre-order. Shirts sold so fast that we're getting more, if you want a smaller or bigger size, this is your chance to get one. Last but not least: the announcement of a bunch of fresh fall shows!
Together music
After not releasing physical music for 7 years, we were a bit anxious how people would respond to a new album. But holy shit, reactions were unbelievable! From both individual listeners and The Media! Check some reviews below!
All full of hooks, all with decent speed, nice and compact. […] Together is an energetic appeal to solidarity, cohesion and friendship. The band is vehemently opposed to capitalism, racism or homophobia and fights for animal rights and tolerance. An important move at a time when hatred and distrust rule and wars and environmental destruction are spreading
– Ox Fanzine
Together is chock full of punk anthems. I for one will be purchasing 'Together' and delving headlong into their back catalogue for more gems. I'd suggest you do the same
Together is an outstanding album that should be on every punk rocker's playlist. Antillectual have delivered another powerful record that combines irresistible melodies with a politically-charged message. With Together, Antillectual has shown that punk rock can still be relevant, forceful, and inspirational, showcasing that art can make a positive change
– Thoughts, Words, Action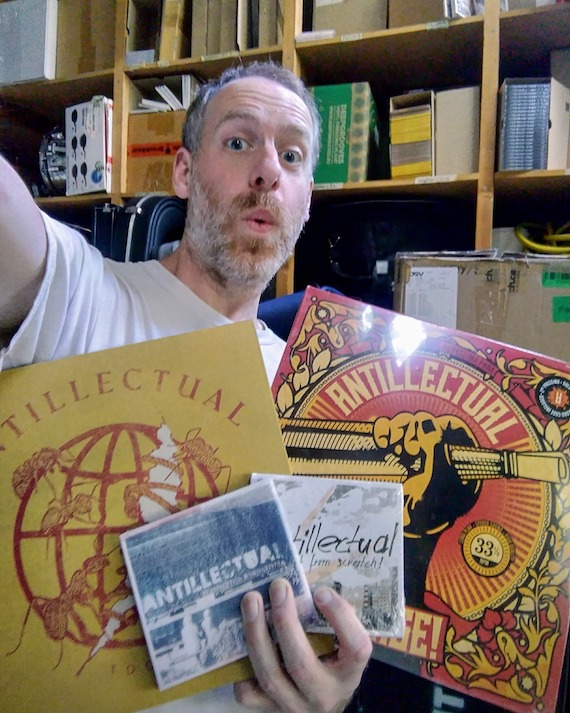 Together merch
If the reviews warmed you up to hear the album or form an opinion of your own, you can still support us via a physical purchase of an LP, CD or tape (almost sold out though), or a package with a shirt (30 euro) or 2 albums (20-25 euro) via our web store. For that authentic digital experience pick your streaming service of choice!
Because the TOGETHER shirts sold like crazy we will be doing a new run! Heads up: smaller and bigger sizes are only available for pre-order, will not be in stock afterwards, and orders need to be in before Friday June 30. Thanks for your support!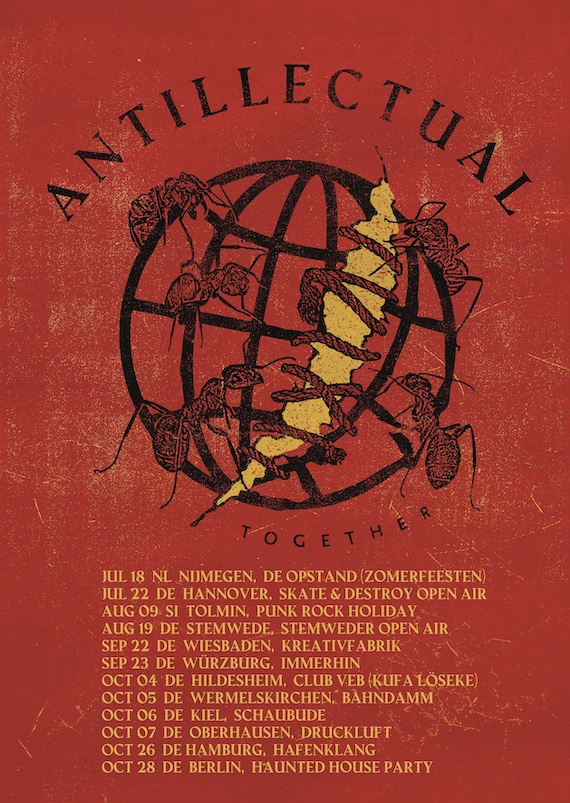 Together live
People singing along to the new songs live is incredible! Let's scream our lungs out together at one of these:
Jul 18 NL Nijmegen, De Opstand (Zomerfeesten)
Jul 22 DE Hannover, Skate & Destroy Open Air
Aug 09 SI Tolmin, Punk Rock Holiday
Aug 19 DE Stemwede, Stemweder Open Air
Sep 22 DE Wiesbaden, Kreativfabrik
Sep 23 DE Würzburg, Immerhin
Oct 04 DE Hildesheim, Club VEB (Kufa Löseke)
Oct 05 DE Wermelskirchen, AJZ Bahndamm
Oct 06 DE Kiel, Schaubude
Oct 07 DE Oberhausen, Druckluft
Oct 26 DE Hamburg, Hafenklang
Oct 28 DE Berlin, Circus Rhapsody Haunted House Party (Tommyhaus)
Info & tickets via our website. For bookings, get in touch!
---
Thanks for reading our newsletter. Don't be shy, hit reply; we love hearing from you! It's been a while, but in the next episode you will find an ITALIAN tour…
Take care, Ben, Riekus & Willem
Missed our previous newsletter? Find it here!