After working on it for 7 years we can finally present TOGETHER! This record became an extensive project, with single releases starting in 2018, a lineup change, 3 recording sessions in 2 different studios, and then the pandemic… We're incredibly satisfied with the final result, hopefully you too!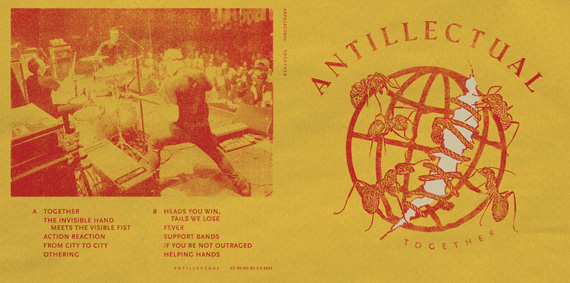 Lyrically
Togetherness is the thread that's weaving through all songs. Capturing the feeling that current day problems can't be solved if we don't fight them with combined forces. The release is a Do It Together cooperation of twenty-plus labels by music industry friends we made over the years. All previous digital singles are included in the tracklist. Since the creation of the record was an extensive project we put extra effort into molding the album into a whole. We're also thrilled that Ian Legge aka the Punk Cellist contributed to Helping Hands! Enough reasons to check TOGETHER in its entirety:
Digitally
We created a landing page with TOGETHER on all platforms and lyrics and liner notes. As always: feel free to add tracks to playlists, follow/like/comment via your favorite DSP and forward it to people with an excellent taste in music. The album is called TOGETHER for a reason!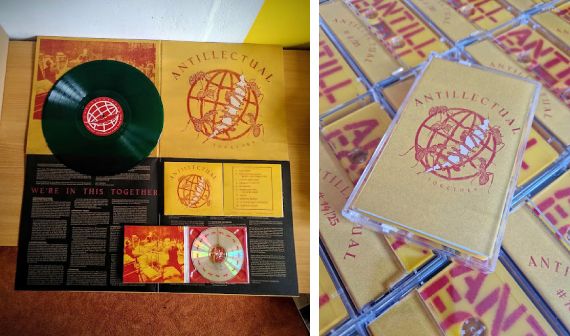 Physically
One of the advantages of releasing an album instead of individual tracks are the LPs, CDs and tapes featuring the beautiful artwork by Thomas at Dark Roast. Eco friendly, 180gr, transparent green vinyl in gatefold sleeves, digipak CDs, and 25 hand numbered tapes. We also have discount bundles with older albums and shirts. Check our web shop for all options.
If you're a label and want to add TOGETHER to your distro, get in touch!
Lively
It's time to play our new songs for you! Come to one of the following to hear the tracks live:
May 13 DE Limburg-Lindenholzhausen, Limewood Festival
May 27 NL Nijmegen, Paraplufabriek
Jun 01 NL Utrecht, ACU
Jun 02 BE Bruxelles, Drink Drink
Jun 03 DE Siegen, Vortex
Jun 17 NL Hengelo, Heng Loose Fest
Aug 09 SI Tolmin, Punk Rock Holiday
Oct 05 DE Wermelskirchen, AJZ Bahndamm
Info & tickets via our website, many more dates to follow, get in touch for bookings.
---
Thanks for reading our newsletter. Don't be shy, hit reply; we love hearing from you! In the next episode you will find a fall tour…
Take care, Ben, Riekus & Willem
Missed our previous newsletter? Find it here!