This is the news we've been dying to send you: WE ARE DOING SHOWS AGAIN! After being on our biggest break ever, doing some small projects and missing you a lot, we are very excited to make new plans, and music! We actually have some shows lined up, which we will be playing with new line ups…
Pandemic Projects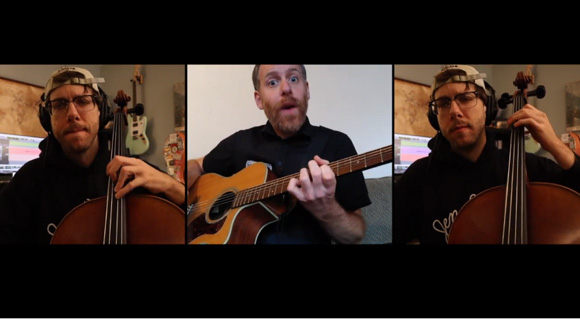 We decided to lay low for as long as we couldn't do "normal" shows. We did do some things though:
Riekus recorded a "Drum Chronology" : all 54 of our songs in 5 minutes! While normal shows were impossible, Willem did some acoustic online shows. Here you can check Willem at SBÄM Online Fest 3. Unscripted Moments aka the Propagandhi podcast did an episode with Willem talking about Mate Ka Moris Ukun Rasik An for which he did an acoustic cover with the Punk Cellist. It was scheduled well in advance, but the release of our Covers EP happened in the middle of the pandemic. While vinyl sold out in the pre-order, we still have some tapes and it's on all digital channels via our website.
New Line Up
As you read in our latest newsletter Toon has left the band. During the downtime we had plenty of time to think about what to do. Instead of looking for one and one bass player only, we decided to build an army of bass players. This makes it easy for us as a band to be flexible and doesn't require people to cancel their own lives when helping us out. At the moment Gijs (Zero Zero Zero, Tenement Kids) and Ben (Dependent) are jumping in. The spirit is high, we're very excited to play with them, come welcome them at the upcoming shows!
With the prospect of new band members, shows and tours, we should also think about new releases, right? Check! We're working on new songs that we would love to release. Perhaps as an "album"? No deadline, release date or any other timeline yet though. You'll read it here first!
Upcoming Shows

Even though this list is shorter than usual, we're very happy with the fact that there is a list period!
Wanna see/book us/make this list longer? Get in touch with us or Steve at Merit Based. Steve (you might also know him from his band Belvedere!) is taking care of all our European bookings, including Germany, Austria and Switzerland.
Merch

As you know, we're not in it for the money, but it does make our van go round. If you wanna support us keeping our heads above water, paying our bills now that we've been running dry for over a year: please check out the merch in our webshop, it's the best way to help us out. We have all full length albums (LP+CD) available, some Covers EP tapes, the Fever and "Ramones" design and some limited leftovers. We'll cut your shipping costs if you add the comment "Newsletter Friends First"!
---
That's it for now, thanks for reading, till next time!
Missed our previous newsletter? Find it here!